In Case You Missed It – July 17, 2017
It's that time again, the bi-weekly updates on all things Disney that may have escaped your news feed. This ICYMI is a little bit special because of the events that took place over the weekend at D23 Expo in Anaheim, California. There was a lot of announcements that came from the expo, that this post would be a little too long for avid readers. I am going to break up the D23 news into different posts, just so MouSeekers can find what they are looking for instead of scrolling through a long post.
D23 Expo News
If you a looking for any upcoming films from Disney, including Star Wars, live-action, animation and/or Pixar follow the link over here
If you are looking for any of the Disney Park news head over here.
Disney Channel News
Raven's Home – This was a blast from the past for me, when I heard this news a couple months ago. Anyone that remembers "That's So Raven" will get to enjoy a next generation spin off in the form of "Raven's Home". Raven Baxter(Raven-Symone) and Chelsea Daniels (Anneliese van der pol) are back and they are still best friends. Both recently divorced they still lean on each other as they are go through raising their families. Of course, one of Raven's kids inherited her powers.
The theme song was introduced last week.
Disney XD News
Descendants 2
The popular Disney Channel movie from 2015, is getting its much-anticipated sequel and promotions have been blasted everywhere. Descendants 2 will premiere on July 21st on the Disney Channel, taking off where the first one left off where all the villain kids are trying to conform to being nice. Trailers suggest that Mal(Maleficent's daughter), isn't taking being a "good" to well and goes back to the Isle of the Lost to take it back but runs into some problems from the new villain kid, Uma(Ursula's daughter). Her friends Carlos(Cruella De Vil's son), Jay (Jafar's son), and Evie (Evil Queen's daughter) go and try to help Mal figure out who she is.
The cast of Descendants has been popping up everywhere to promote this fun franchise. They even showed up at Disneyland over the weekend to lead the Grand Marshall's parade, and mingle with guests at D23 Expo.
Disney XD News
Star Vs the Forces of Evil season 3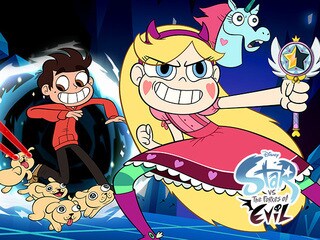 One of my new favorite cartoons is Star vs. the Forces of Evil. It is a wacky inter-dimensional cartoon about a princess who was sent to Earth to basically learn how to function in a different society to get out of her parents' hair. I might have ruined the synopsis but that is what it is in a nutshell. Don't get the wackiness of this series fool you, it does have a storyline hidden in this gem. That is why on July 15th, season 3 opened to a 2-hour long episode (really just 4 episodes connected to each other), "The Battle of Mewni" to entertain us with what happened after last season's cliff hanger. There are elements of Sailor Moon and Dragonball Z in this show, which is what the creator has stated inspired her to make this show.
Big Hero 6 TV series
A new cartoon series will be coming to Disney XD, based on the 2014 film of the same name. The series will premiere in the fall of 2017 and have recently had the cast announced in the spring of this year and as of recently the theme song and intro premiered as well. The series will continue from right after the film left off.
Disney Junior News
The Lion Guard season 2
The Lion King based television series based on Simba's son and his friends, The Lion Guard premiered its second season on July 7, 2017. If you haven't seen this Disney Junior series, it centers around Simba's son Kion and his adventures with his friends who he has asked to be on "The Lion Guard", which are tasked with the perseverance of the pride lands. "Babysitter Bunga" was the season opener which centered around one of the Lion Guard, Bunga, who is a honey badger and the symbol of courage. The Lion Guard episodes every Fri-Yay night.
Other Disney news
The Lion King Signature Collection
Coming right out of a Lion King panel from D23 Expo, it was announced a date of when The Lion King will be let out the vault and available for purchase. August 29, 20, 7 is the date to mark your calendars for the DVD and Blu-Ray. August 15th will be the date for digital release. The signature collection DVD/Blu-Ray will have a lot of bonus content to be had. Here are only a couple bonus features that will appear:
Sing-along with the classic songs
Look at original storyboards
Look into how they pitched Hakuna Matata
Rare footage of recording sessions
Is there something that I missed in the past two weeks that I should have put in here?
Is there something I mentioned that I should touch more on?
Do you want me to do this in vlog form instead?
Tell us what you think in the comments below!